major-gen-ahmed-nasser-al-raisi
Major Gen. Dr. Ahmed Nasser Al Raisi
Chairman of the Board of Trustees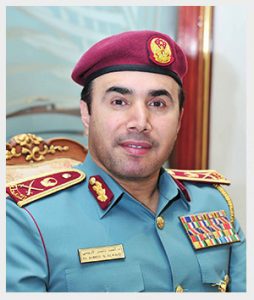 Major General Dr. Ahmed Naser Al Raisi is currently serving as the President of Interpol, leading UAE law enforcement officer and the General Inspector of the Ministry of Interior, UAE. He was appointed to this position in April 2015 after leaving an indelible mark upon the Abu Dhabi Police, General Directorate of Central Operations.
He joined Abu Dhabi Police in 1980 and started his career in 1986 as an officer in the Burglar Alarm Branch; then he became Director of Forensic and Science Institute; Head of IT Division in the Telecommunication and Information Systems Department; Director of IT and Telecom Department. In 2005, he was appointed as General Director of Central Operations, Abu Dhabi Police GHQ. In addition to this, he was also appointed as General Director of E-Services, Ministry of Interior, United Arab Emirates.
Dr. Al Raisi obtained his Doctorate Degree in Policing, Security and Community Safety – London Metropolitan University, UK (2013); MBA Business Administration (Innovative Management), Coventry University, London, UK (2010); Diploma (Police Management), University of Cambridge, UK (2004); BSc (Computer Science) Otterbein College, Westerville, Ohio, USA (1986).
Even at early stages of his career, Dr. Al Raisi displayed a penchant for new technologies to boost effectiveness and efficiency of services for Abu Dhabi Police GHQ and its clients. He spared no effort to provide training opportunities for the staff through attending courses, workshops, seminars, conferences and relevant events inside and outside the country, thus orchestrating the rapid development of all departments of Central Operations Directorate and boosting the skills and efficiency of the staff. His deep commitment to ensure that best practices are followed, and his solid contribution to achieving the vision and mission of both Abu Dhabi Police GHQ and the UAE Ministry of Interior has helped in turning Abu Dhabi police Force into what it is today.
Dr. Al Raisi was involved by leading or supervising many successful strategic programs. Among these are the development of a UAE Search and Rescue team to earn UN recognition as Heavy SAR Team; implementation of IRIS recognition project which has been upgraded and enforced with the latest technological innovations. In addition, there are other projects which have been implemented with the supervision or contribution of Dr. Al Raisi, including the use of biometrics for disaster victim identification; GIS, e-order system; e-passport, facial recognition project. He has also contributed to the development of national ID card project and the establishment of Abu Dhabi Police Disasters Victims and Causality Bureau, which is linked with the Interpol.
Major General Dr. Al Raisi has also taken the lead in the propagation of the emergency preparedness concept locally. He has been instrumental in paving ground for the establishment of an Emergency Medicine Academy (EMA) in Abu Dhabi Police GHQ. This particular project (EMA) has been planned to be a joint project with the Disaster Medicine Section of Harvard Medical School to provide high quality education in pre-hospital emergency medicine and the paramedic training that prepares candidates to make a positive contribution to society.
In recognition of his distinguished contributions Dr. Al Raisi has earned dozens of medals and prizes, locally and internationally and the most important of these are:
The Information Technology Executive of the year as Gold Stevie Winner in the 2014.
The 10th Middle East CEO of the year Award.
Mohammed Bin Rashid Government Excellence Award.
Abu Dhabi Government Excellence Award.
Citizen ID Forum Award 2014.
First Class Rescue Medal presented by HH Lt. Gen. Sheikh Saif Bin Zayed Al Nahyan, Minister of Interior.
Commander Leadership Medal presented by HH Lt. Gen. Sheikh Saif Bin Zayed Al Nahyan, Minister of Interior.
Ajman Police Medal.
Medal of Excellence for Emirates Search and Rescue (SAR) Team for obtaining UN-INSARAG external classification (IEC), ranking first among other SAR teams throughout the Middle East and Africa.
ID Outstanding Achievement Award, ID People Awards 2007, Milan, Italy.
Rashid Award for Outstanding Academic Performance.
Dr. Al Raisi has a dynamic personality, with strong presence in diverse activities inside and outside the police institution. He has occupied several positions such as:
Chairman of the Board of Directors, Baniyas Club.
Chairman, MOI Integrated Services Centre Project.
Member of the Board of Trustees, American University in the Emirates.
Member of the Executive Committee of UAE ID Authority.
Chairman, e-passport project committee.
Chairman, supervising committee for UAE SAR team heavy classification project.
Board Member/Executive Office member of the National Olympics Committee.
Board Member/Executive Office member of the School Olympics Committee.
Chairman of Casualty Bureau Committee.
Chairman of the Technical Task Team for Population Register.
Chairman of Medical Advisory Committee for Pre-hospital services.
Chairman of Higher Committee for Modern Projects and Technologies.
Board Member of the Privatization Group.
Chairman, the Internal Security & Counter-Terrorism Plans Review Committee.
Chairman of the UAE Shooting Association.
hairman, Shooting Organizing Committee of Gulf Co-operation Council (GCC).
Member of the International Association of Chiefs of Police (IACP).
Member of the ISSF Executive Committee and a Member of the International Shooting Sport Federation.