Vice President for Research
Message from the Vice President for Research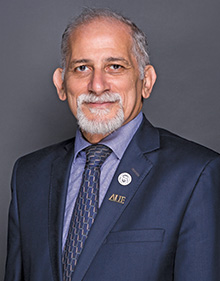 The American University in the Emirates (AUE) is dedicated to be one of the leading institutions I higher education both nationally, regionally and internationally by providing integrated pathway for faculty, students and staff to become creative, effective, and productive members. One of the strategic goals the university is to develop knowledge, based on basic and applied research in various fields of study, which is in line with the Vision of HH Sheikh Mohammed bin Rashid Al Maktoum to build an economy that is diversified, global, healthy and happy.
The ability to carry out research and publish the outcomes requires critical reading, analysis, imagination and problem-solving skills. One of the reasons the institution has set up the Office of Research at AUE, is to provide new focus, resources, guidance and research opportunities for students and academic staff to undertake applied research. 
The American University in the Emirates will continue to demonstrate that it performs research that is highly respected by peers and has a significant impact on society through benefits to business and influence on public policy. 

We will maintain a thriving research community that recognizes the importance of developing new researchers and provides necessary support to allow the faculty members to achieve their research potential. The AUE vision and mission is to encourage research that has practical application for both economy and society. In this regard, examples of the research that our students and faculty members have published recently, can be browse online. In terms of research breadth and depth, the work is a clear sign of AUE's ambition to become a research-lead organization in the UAE and internationally.

It is our aspiration that research in the area of Business, Diplomacy, Security, Design, Information Security, Intelligence and other emerging fields will create new opportunities for our students, and will provide advanced solutions to local challenges, in the very near future.

Yours Sincerely,
Professor Assem Tharwat                                                                    Vice President for Research
For any questions or enquiries about research at AUE, please e-mail: [email protected]