Message from the Provost, Professor William Cornwell​​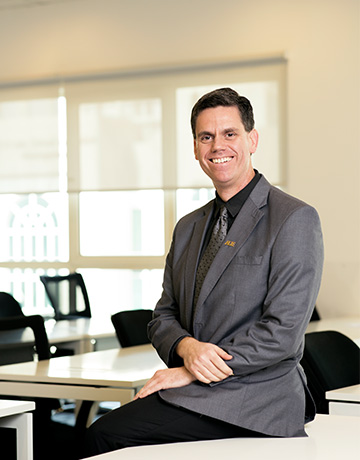 Welcome to the American University in the Emirates (AUE), a dynamic institution located in one of the most exciting metropolitan areas in the world, Dubai!
AUE combines the structure and rigor of American higher education with the multicultural environment and exciting opportunities of the United Arab Emirates. We welcome students and faculty members from around the world in the spirit of the UAE's openness, tolerance, and ambition to achieve greatness. Our inspiring students are the embodiment of the university's motto that "nothing is impossible."
AUE offers unique undergraduate and graduate programs that connect theory to practice and prepare students to become leaders in their chosen fields. Our classes emphasize critical and creative thinking, practical skills, and current knowledge. AUE instructors combine professional and academic expertise with a love of teaching to provide a strong education in a supportive classroom environment. We also have many ties to leaders in government and industry so that our students can benefit from a fantastic variety of guest lectures, field trips, internships, and other enriching practical experiences.
AUE faculty members are dedicated to quality teaching and research. The university fosters a culture of scholarship by hosting events like the annual American University in the Emirates International Research Conference and by supporting the research activities of faculty members and students. Our graduates leave the university prepared to be lifelong learners who can adapt to and take advantage of the rapid changes that characterize the modern world.
The university strives for excellence in all areas and has the vision "to be one of the leading higher educational institutions locally and regionally." AUE's College of Business Administration is accredited by the Association to Advance Collegiate Schools of Business (AACSB), a recognition achieved by less than 5% of business schools globally. In addition, the Bachelor of Science in Computer Science has the prestigious ABET accreditation.
AUE is a welcoming place, so please browse our online resources and feel free to reach out to me or any office or person here. We are a small university that offers individual attention, an array of student support services, and engaging extracurricular activities so students can pursue their passions and develop lifelong friendships. We foster a diverse student body by encouraging applications from people of all ages, backgrounds, nationalities, and religions, and we award scholarships to help motivated students achieve their dreams. More information is available by clicking on the "Admission" tab at the top of this page. Our door is open, so step in and learn more.
Prof. William Cornwell
The American University in the Emirates
P.O. Box: 503000
Dubai, the United Arab Emirates
Email: [email protected]