Prof. Muthanna G. Abdul Razzaq
Prof. Muthanna G. Abdul Razzaq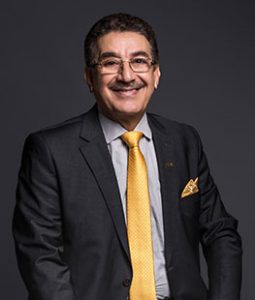 Professor Muthanna Abdul Razzaq is an eminent professional and educationist who completed his bachelor degree in Business Administration and Accounting at Al Mustansirya University. He got his postgraduate diploma in Cost Accounting from Baghdad University and moved to the UK to finish his PhD in Management Accounting, which he obtained from the University of Manchester.
Starting his career with the Ministry of Irrigation, Prof. Razzaq subsequently gravitated towards education, resulting in his transfer to Baghdad University, where he worked for more than five years, including as Vice President for Financial Affairs. Taking a step further he joined the Accounting Department at the College of Business Administration in the Applied Science University, Jordan, in 1997, where he was acting Chair. Later, in 1999, he took up the role of Deputy Dean in the Faculty of Business Administration at Ajman University of Science and Technology, UAE. As a result of the exemplary work he has done in the region, Prof. Razzaq has earned an outstanding reputation. His rise to prominence over such a short span of time can be attributed to his strong willpower, competence, principles, commitment, and leadership qualities.
Prof. Razzaq's passion for bringing educational excellence to the UAE motivated him to propose and establish Abu Dhabi University (ADU) in the year 2000. Over the next five years, he continued his academic journey at Abu Dhabi University, which is now one of the leading quality institutions in the region. Prof. Razzaq has also served in various capacities, such as Chairman of the Academic Committee, Member of the Board of Trustees, Vice President for Scientific Research, Member of the Board of the Governors, Vice Chancellor for Administrative and Financial Affairs at ADU and Member of the Board of Trustees at the American University of Afghanistan.
Prof. Razzaq's constant drive to excel inspired him to establish the American University of the Emirates in 2006, where he currently serves as President, CEO and Member of the Board of Trustees. Throughout he career, he has always aimed to spread education and has an immense faith in the younger generation to be sincere, dedicated, and keen to adopt new practices of learning, provided their energy is channeled in the right direction. Having researched the market needs of the Emirates, Prof. Razzaq created AUE to provide quality education in niche areas. It is as a result of his determination that AUE today offers academic programs that are not available elsewhere in the region—for instance, graduate programs in Diplomacy, Security and Strategic Studies, Sports Management, Security and Intelligence, Intellectual Property Rights, Arbitration, and Criminal Justice, and a truly unique bachelor program in Equine Studies.
Prof. Razzaq maintains a strong belief that the young generation can enter any challenging arena and achieve success if they receive focused attention, an inspiring atmosphere and a bit of extra care. These are, therefore, the qualities offered by AUE and the university's track record of increasing student numbers and sustaining a diverse portfolio of academic programs is a testament to this.
An accountant by profession, Prof. Razzaq is a visionary leader with a blend of administrative and academic experience. Prof. Razzaq has always been at the forefront of progressive social movements, such as the annual forums on breast cancer awareness, health care management, fraud and risk management, digital forensics and similar critical issues that have had a tremendous impact on the minds of the young generation.
In a recent move, recognizing the need for peace in the Middle East region, the professor established the Centre for Peace and Conflict Resolution. To inculcate higher order critical thinking skills, he also established a Debate Center at the university. In addition, Prof. Raqqa also supported another unique initiative, which was the first democratically elected Women's Council, the International Majlis for Women to support gender equality.