President Emeritus and Professor of Marketing, Marymount University Interim President, World Affairs Council, Washington DC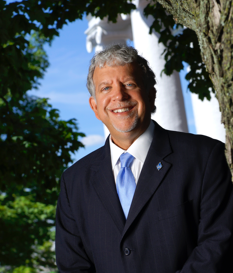 Dr. Matthew D. Shank became Marymount University's 6th president in July 2011, where he remained for seven successful years. In recognition of his work at Marymount, Dr. Shank received the 2012 Global Education Leadership Award from the World Affairs Council, Washington, DC. In addition, he accepted the World Affairs Council Global Educator of the Year Award on behalf of Marymount in March, 2017.
Following his tenure at Marymount, Dr. Shank became interim President of the World Affairs Council, and in 2019 he became the 8th President of the Virginia Foundation of Independent Colleges, a consortium of 15 private universities in the Commonwealth.
In 2017, Dr. Shank received the Edu-Futuro Community Partner Award, and in 2018 he was the recipient of the Robert Ball Lifetime Achievement Award from the Ballston Business Improvement District. Additionally, in 2016 Dr. Shank earned the distinction of becoming Visiting Distinguished Professor at the National University of Public Service in Budapest, Hungary.
An accomplished scholar, Dr. Shank has published numerous articles, presented at many conferences, and is the author of the book Sports Marketing: A Strategic Perspective. He has consulted with over 75 organizations in the areas of marketing research, strategic planning, and marketing strategy.
He is currently a member on the following boards:
Arlington Free Clinic (advisory)
Arlington Public Schools (advisory)
American University in the Emirates (AUE)
Bishop O'Connell High School
Catholic Business Network of Northern Virginia
Cristo Rey High School
Dream Project (advisory)
Leadership Center for Excellence (advisory)
National Catholic Education Association
Northern Virginia Community College Foundation
Volunteers of America, Community Housing Development Organization
Women's Foundation of Washington DC
World Affairs Council