H.H. Sheikh Mohammed bin Rashid Al Maktoum meets outstanding students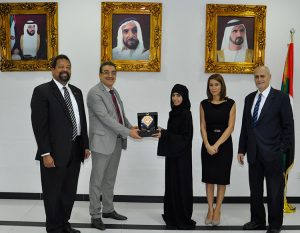 It was yet another proud moment for AUE and moment of great pride and privilege for Maryam Mohammed bin Hammad, one of the outstanding graduate from the Master of Arts in Security and Strategic Studies of the College of Media and Mass Communication. Ms. Maryam who scored highest GPA in the Program was invited for Iftar by His Highness Sheikh Mohammed bin Rashid Al Maktoum, Prime Minister of UAE, Ruler of Dubai along with other outstanding students from various universities.
"It was an amazing experience to have a brief conversation with the Prime Minister of the country and Ruler of Dubai, His Highness Sheikh Mohammed, who inspired me with his vital and vibrant presence and motivated me to further my education," said, Ms Maryam while sharing her experience.
The Chairman of the Board of Trustees of AUE, His Excellency, Mohammed Bin Bduwah Al Darmaki, the Deputy Chairman, Mr Khalaf Al Qubaisi, the President, Prof. Muthanna Abdul Razzaq, along with all AUE members congratulated Ms Maryam, stating that Ms Maryam's achievement is indeed motivational for other students, especially the female students, who should come forward to serve the nation, upon gaining academic and professional competence ensured by the University.