AUE HOSTS ITS FIRST ANNUAL CLUB FAIR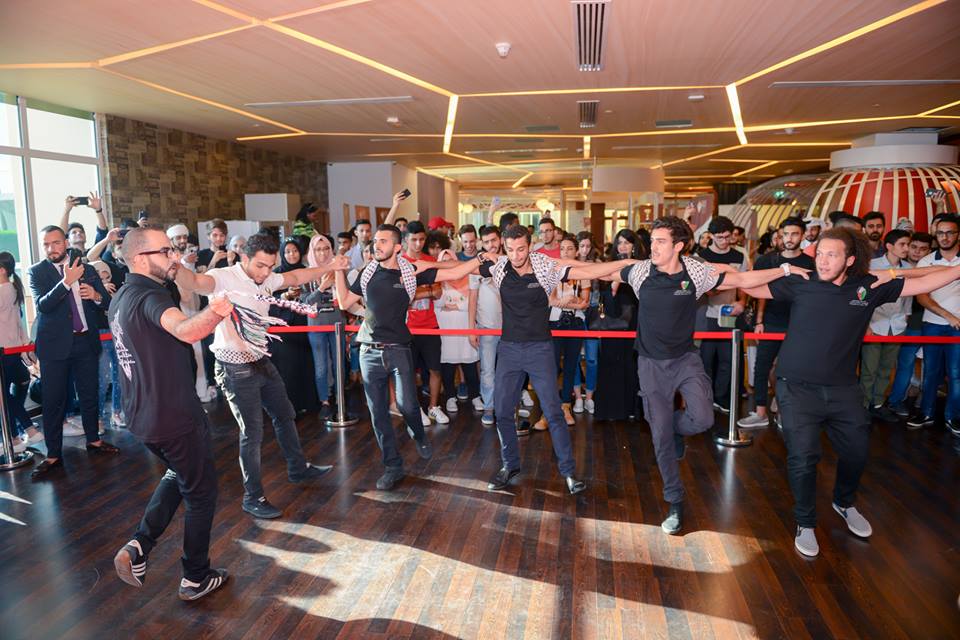 As part of the students' activities and community engagement, Department of Student Affairs of the American University in the Emirates, organized its first annual club fair, that consisted of 17 clubs, combing between new and existing, in which some of them were unique not just to the university but to the country as a whole; on Wednesday, oct, 18, 2017 at its campus.
Professor Muthanna Abdul Razzaq, President of the university, inaugurated the fair by welcoming hundreds of students to the ceremony, where he announced the Students' Council elections, and encouraged all students to nominate themselves and participate in the council, which he believed, will play a crucial role in the success of the students' clubs.
The ceremony gathered the AUE's multicultural community to celebrate the clubs with a various range of live performance that included, singing, traditional dancing, live drawing, football freestyle, and more; which gave the opportunity to many of the students to share their talents, and inspire their peers to enroll in the 17 clubs and grow their passions in a university where "Nothing is Impossible".
Under a lively dynamic atmosphere, AUE students and faculty got the chance to tour around each club station that was represented by students, and got to know the potential goals and activities of each one. The marketing club as an example, got a great number of students who signed up to participate in the different events that the club will be part of, and to also, collaborate with other clubs such as the Art & Design and the Newspapers club, to come up with something innovative, creative, and initiative.
The music club as another example, will be a platform for those who want to learn about music, the use of instruments, and develop their talents and skills and use that for a couple of live charity shows.
The ceremony was concluded by a lively dancing and singing, that both performers and attendees participated in, which reflected the unity of the AUE's community and the beauty of collaborations, which the students' clubs are all about.