American University in the Emirates Supports Mohammed El Husseiny's Attempt to Cross the English Channel in 2017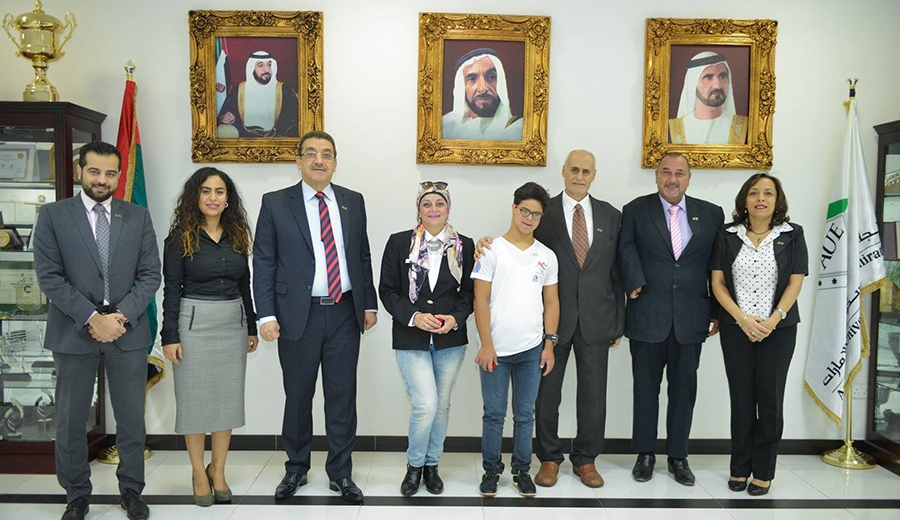 Mohammed El Husseiny is a young man who has always strived in life to excel above his immediate capabilities. An 18-year-old from the ancient Nile he carries with him the sense of relationship Egypt has with the waters.
El Husseiny has Down Syndrome but that is not stopping him from embarking on a challenge to cross the English Channel in 2017, not letting anything get in his way of this remarkable task and the American University in the Emirates (AUE) is helping him reach his life goal.
A passionate champion swimmer from an early age, with the help of his coaches from the Stroke for Egypt Academy (SFEA), El Husseiny has competed in three international contests for swimming organized by SFEA in Hurghada, Egypt.
SFEA is a swimming association established by two champion swimmers who have made waves in their home country of Egypt by breaking records and winning various championships. Captain Khaled Shalaby, El Husseiny's coach and despite carrying a birth disability of having only one arm, was the first special needs swimmer to cross the English Channel becoming the winner of the World Special Needs Championships in 1983, amongst other impressive wins. Captain Sherwitte Hafez, Chairman of SFEA and a master Olympic swimmer, represented Egypt in the 1984 Los Angeles 24th Olympiad, as well as winning the gold medal in the 4th All Africa Games in 1987, amongst other great wins.
With the backing support of AUE, SFEA will be preparing El Husseiny to cross the English Channel through a yearlong rigorous training program, which will see him break another world record such as that of his coach.
AUE is well accustomed to not only believing yet also implementing its unique motto of "Nothing is Impossible" and that is why they will be there to support El Husseiny from shore to shore, empowering him to reach new heights in his career as a champion of the waters. President and CEO of AUE, Professor Muthanna G. Abdul Razzaq also encourages leadership in all forms and says of the impressive initiative, "AUE is a place where dreams come true and we work to graduate leaders, that is why I am proud to support such a brave and hardworking person like Mohammed El Husseiny."
The English Channel is a 36km swim from the South of England to the North of France and the task of completing the swim has been yearly undertaken from participants worldwide since 1875.