American University in the Emirates Graduation Presents its Students to the World.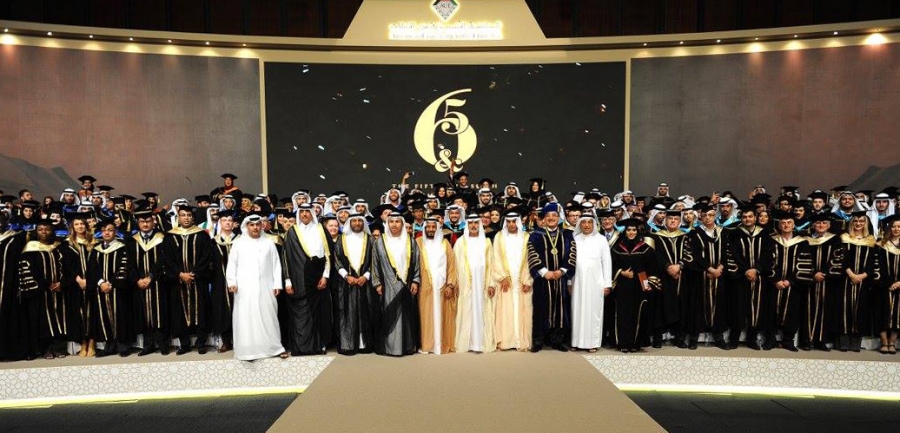 American University in the Emirates (AUE) has graduated over 800 students for its 5th and 6th commencement, graduation day, at Sheikh Rashid Hall, Dubai World Trade Center on 5 June, 2016, under the patronage of His Excellency Sheikh Nahyan bin Mubarak Al Nahyan, Minister of Culture and Knowledge Development.
Graduates were sitting eager to receive their graduation certificates after the reading theme was announced for the commencement and a show stopping graduation with a packed audience of family and friends had begun.
The ceremony included a powerful and moving speech by H.E Sheikh Nahyan bin Mubarak Al Nahyan, in which he congratulated AUE graduates on the vital step they had reached in life by noting that, "The University (AUE) is a great contributor to the development of the beloved United Arab Emirates (UAE)." He also stressed the importance of education by adding, "Learning and teaching is in the hands of the country and its people."
AUE Professors, Doctors and Instructors were sitting beside their students on a stage design of skyscraper books and wooden Islamic engravings. AUE President and CEO, Professor Muthanna G. Abdul Razzaq, who is well loved by his students, was in an emotional mood to see graduates start on a new leaf in life. While the AUE provost, Professor Nabeel Jurdi, who has greatly contributed to the unique programs at AUE, said of the memorable day, "It is my pleasure to see this number of students graduate. Graduation day is a once in a lifetime experience for both students and educators.
Boasting six colleges of Media and Mass Communication (CMMC), Computer Information Technology (CCIT), Business Administration (COBA), Fine Arts and Design (CFAD), Education (CEDU) and Law (CLAW) and with various undergraduate and graduate programs and specializations, some even unique to the region, AUE showcased a strong foundation for graduates to spring from and use throughout their future achievements. Dr Arafat Al Naim, Dean of CFAD, said of the triumphant day, "For an educator, today is a day of harvest, where all efforts come to a fruitful end. We are happy to see an extension of ourselves in our students.
AUE graduates were treated to a special speech by H.E. Sarah Amiri, Head of the UAE Council of Scientists, who reminded them not to limit themselves and to always try to shock themselves in order to reach new heights.
A shock surprise was in store for the graduation day with an uplifting performance of AUE and UAE flag waving with bursts of fireworks symbolizing the strength gained by being a graduate of such a forward thinking university in the hub of innovation like the UAE.
Graduation day has been an anticipated day for AUE as it strives to build new ways of learning and teaching and educating everyone that nothing is impossible.