Assistant Professor, College of Business Administration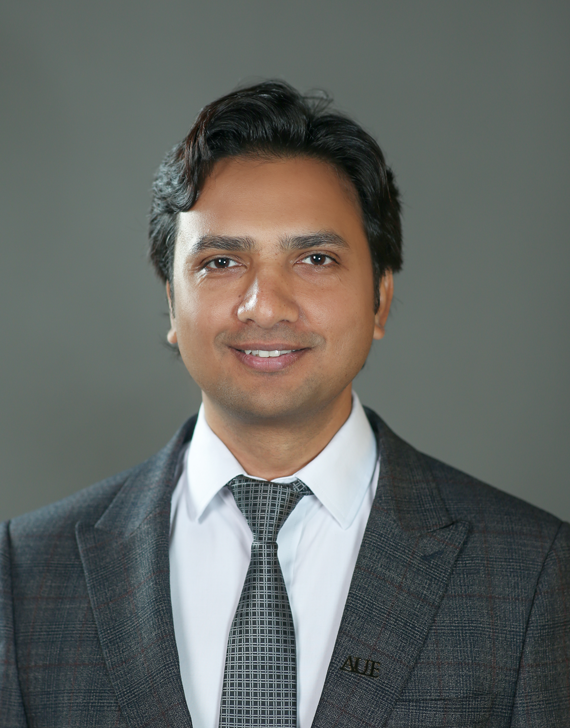 Dr. Sharafat Hussain is an Assistant Professor of Marketing at American University in the Emirates. Dr. Hussain also holds an adjunct professorship position at Baylor University, Texas, USA. He is a practice-oriented academic with many years of industry experience in the areas of marketing, healthcare, and outsourcing.
Dr. Hussain's entrepreneurial journey includes co-founding and directing companies in America, the Middle East, and India. He has held various leadership positions and helped guide projects in digital marketing, branding, sensory marketing, consumer behavior, and business process outsourcing. He has completed his master degree in Business Administration with a major in Marketing and earned his Ph.D. in Management Studies from Maulana Azad National Urdu University, India. He also holds a Post Graduate Diploma in Travel and Tourism Management, a Diploma in Six Sigma, Diploma in Computer Apps, Diploma in Graphic Design, and a Certificate Course in Entrepreneurship in Emerging Economies. His research interests are Sensory Marketing, Consumer Behavior, Branding, Sustainable Marketing, Entrepreneurship and Leadership. He has authored a number of research articles and chapters in reputable journals and books. He has presented papers at several national and international conferences. He has qualified for National Eligibility Test for assistant professor and has also been awarded a grant and national fellowship from the University Grant Commission of India. In addition to teaching, research, and industry experience, he is an active member of the Society of Sensory Professionals, USA, and Management Association, India. Dr. Hussain also keeps himself involved in community volunteering activities, career counseling, and mentorship.