Master of Sports Management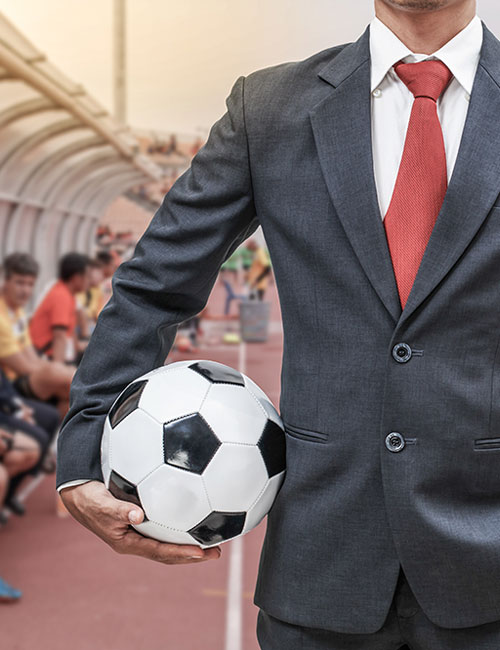 About Specialization
Program Learning Outcomes
About Specialization
The AUE has developed a strong and comprehensive Master of Sports Management (MSM) Program providing guidance and leadership to the sports sector across the UAE and the GCC region. The program develops and enhances management, sport and business skills to effectively govern sport-related organizations. The programs prepare students to become tomorrow's leaders in delivering state-of-the-art decisions and strategic orientation in the sports industry.
The MSM program is built for advanced students to expand their skills and competencies for the dynamic world of sport. That said, the program is structured to enable students to pursue further academic and professional development. The strategic approach of the AUE is to place the MSM program as a leading program for studies on sport-related industry serving as a hub for delivering education, consulting and extensive network.
The program is focused on developing, integrating and delivering a contemporary knowledge and understanding of sport-related and business science. Students are coming from diverse backgrounds enriching the program with their know-how, experience and culture.
Program Learning Outcomes
For graduate degree completion, graduate students must satisfy the following requirements:
Earn a minimum CGPA of 2.00 on a scale of 4.00.
Successfully complete all courses as described in the study plan.
The Degree Completion requirements must be met within the timeframe of the program.
Successfully complete the "Thesis" course.
The American University in the Emirates is licensed by the UAE Ministry of Education – Commission for Academic Accreditation |
caa.ae
Total Number of Credit Hours
Total (
Excluding Bridging Courses

)
* Bridging Courses (5 courses/10 CH) * required for students who have their bachelor's degree in different field than Business
Tuition (One Semester)
………
Approx. 30,000 AED
One academic year is two semesters
Admission (One Time)
………
3,500 AED
Last Updated on July 19, 2022
Bridging Courses
Core Courses
Elective Courses
Thesis Courses
Bridging Courses
5 COURSES | 10 CREDIT HOURS
Core Courses
Elective Courses
Thesis Courses
EQUINE MANAGEMENT CONCENTRATION

Equestrianism is ever increasing in popularity, the leaders and strategic managers who will shape equestrianism's future will therefore require an outstanding foundation in both business and equine management to be successful.
Upon completion of the Sports Management program, graduates have the opportunity to possess a specialized concentration in Equine Management to develop professional business skills contextualized to the equestrian environment enabling them to make effective and viable decisions within the broader management of equestrian related businesses.
Requirements
MSM
No. of Courses
Cr. Hrs
Bridging Courses(*)

5

10

Core Courses

7

21

Free Electives

2

6

Thesis 1

1

3

Thesis 2

1

3

Equine Management Concentration Courses

4

12

Total (Excluding Bridging Course)

45
| Course Name | Credit Hours |
| --- | --- |
| | |
| Equestrian Event and Client Management | |
| Performance Analysis in Equestrian Sport | |
| The Global Horseracing Industry | |
| | |
Course A | Tue –Thur | 5:00 pm –8:00 pm
Course B | Mon –Wed | 5:00 pm –8:00 pm
If one course is registered, one-timing would be selected
Course A | Sat-Sun | 9:00 am –12:00 pm
Course B | Sat-Sun | 2:00 pm –5:00 pm
If one course is registered, one-timing would be selected
Students can join anytime during the year and at the beginning of any block.
Core Courses
Thesis
Free Elective
MSM ADVISORY BOARD MEMBERS
| Name | Designation |
| --- | --- |
| | Academia (Sports Management), University of North Texas (UNT) |
| | Private Sector – Sports Management Consultancy, CSM Sport & Entertainment |
| | Public Sector – Sports Federation/ Equestrian, UAE Equestrian Federation |
| | Manager, (AUE MSM Alumni), Private Sector, Al Forsan International Sports Resort |
| | Private Sector/ Sports Law and Events Management, Al Tamimi & Company |
| | Public sector – Sports Federation, UAE National Olympic Committee |
| | Managing Director, Titans for Sports Services, Dubai, UAE |
| | Senior Program Presenter (AUE MSM Alumni), Abu Dhabi Media Company |