Master of Arts in Diplomacy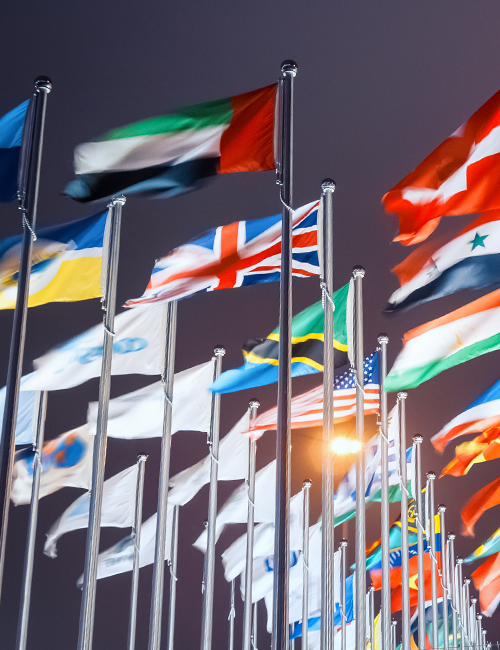 About Program
Program Learning Outcomes
About Program
Make Everyone Feel Involved
Diplomacy is an art. Diplomats should be equipped with knowledge, culture, delicacy and efficiency in negotiation skills and enabled to help facilitate communication and resolve possible disputes and challenges. It is crucial to be skillful. To be well equipped with tactical and operational knowledge, hold efficiency in analysis and policy orientation; to have ethics and abide by morality and national and international standards. Be an explored and a trader, be visionary and become a leader. Enable critical thinking which will lead to success stories. Make dreams come true by following a degree which leads you to an international career. A global career which starts with the beginning of your studies at the College of Security and Global Studies (CSGS).
To offer quality curricula that cover the essential facets of diplomacy.
To provide adequate supporting services to enhance the process of education.
To empower diplomats (current, potential and future) in civil society, business and government with the necessary diplomatic skills to be successful.
To think critically, respect diversity and communicate effectively.
The ability to face the challenges of the 21st century – a society that is informed, entertained, persuaded and shaped by international communications.
To introduce practical skills, such as diplomatic report writing, language analysis, negotiation and communication with media.
Enable students to identify and cope with the sources of conflicts at the individual, organizational and political level.
Program Learning Outcomes
For graduate degree completion, graduate students must satisfy the following requirements:
Earn a minimum CGPA of 2.00 on a scale of 4.00.
Successfully complete all courses as described in the study plan.
The Degree Completion requirements must be met within the timeframe of the program.
Successfully complete the "Thesis" course.
The American University in the Emirates is licensed by the UAE Ministry of Education – Commission for Academic Accreditation |
caa.ae
Total Number of Credit Hours
Total (
Excluding Bridging Courses

)
Tuition (One Semester)
………
Approx. 40,000 AED
One academic year is two semesters
Admission (One Time)
………
3,500 AED
Last Updated on August 8, 2022
General Education Courses
Core Courses
Free Electives
Thesis
General Education Courses
2 COURSES | 4 CREDIT HOURS
This course examines the evolution of the international relations since WWII with emphasis on the Middle East. Students will explore the international relations evolved in the Middle East and how the middle east was not immune to the tensions between the world's superpowers. Students will also Learn about various types, evolutions, historical roots and underpinnings of wars. Students will analyze and discuss the international systems since 1945 and their use and applications in understanding foreign policy, global conflict, wars on terrorism, search for peace and so on.
This class focuses on the current world affairs. It combines structural (such as demographics or environment) and conjunctural (ongoing tensions and conflicts) issues. Case studies will be selected by the instructor.
Core Courses
Free Electives
Thesis
Course A | Sat–Sun | 9:00 am –12:00 pm
Course B | Sat –Sun | 2:00 pm –5:00 pm
If one course is registered, one timing would be selected
Students can join anytime during the year and at the beginning of any block.
Bridging Courses
Core Courses
Thesis
Free Elcetive
| Name | Affiliation | Rationale |
| --- | --- | --- |
| | Chairman of the Atlantic Council of Georgia | Former Minister of Defense & Ambassador of Georgia to the US |
| | | Former Ambassador of Greece to the US |
| Admiral (ret). Alexandros Diakopoulos | Managing Director for Greek Development and Humanitarian Aid | 1st National Security Advisor of Greece |
| | Business Development Expert Investment Promotion Director | RAK Chamber of Commerce & Industry |
| | PR Office – UAE Parliament | |
The MA will be specialized based on the thesis topic | extra letter will be provided
Diplomacy
Negotiations
Protocol & Negotiations
Future Diplomacy
Sustainability
Peace and Conflict Resolution
Accords
War negotiations
International Organizations
National Diplomacy
Sustainability policy
Cyber-Diplomacy
The thesis can be replaced by two elective courses.