Visit of delegates from Japan's Urasenke Tankokai Federation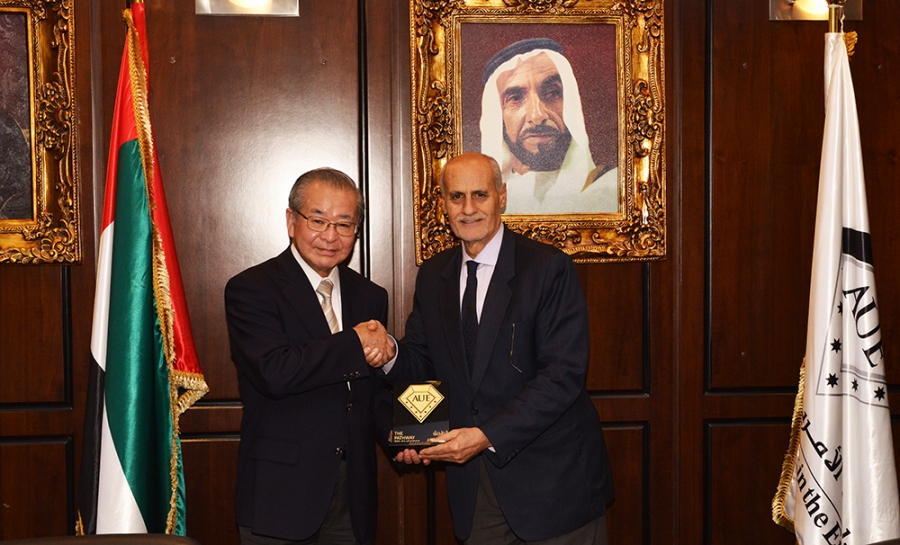 Professor Nabeel Jurdi, Provost and Vice President for Academic Affairs, and Mr. Ahmed Mohy, Marketing Department Director, welcomed delegates from Japan's Urasenke Tankokai Federation to AUE on Thursday December 10, 2015.
This Federation has the goals of standardizing the Urasenke chanoyu tea-making procedures (temae), while supporting related research, encouraging exchanges among members, promoting the tea ceremony principles established by the Grand Master, and expanding the chado population around the world.
The visiting Japanese delegation included Dr. Hideji Sochu Sekine. Director General, Office of Management and Vice Chair, Urasenke Tankokai Federation; Megumi Yoshimoto. General Affairs Department; and Hiroki Soki Kitami Urasenke Foundation. The delegation toured the University's Campus, and identified locations where a very special intended traditional Japanese tea party could be held.
HRH Masako, the Crown Princess of Japan will visit the American University in the Emirates during the first week of March 2016, to preside over this traditional Japanese tea party, which will increase awareness of Japanese culture among students, encourage related research, and support the goals of the Urasenke Tankokai Federation."