Our Student Ms. Nima Abdi walks 140 KM in Six Days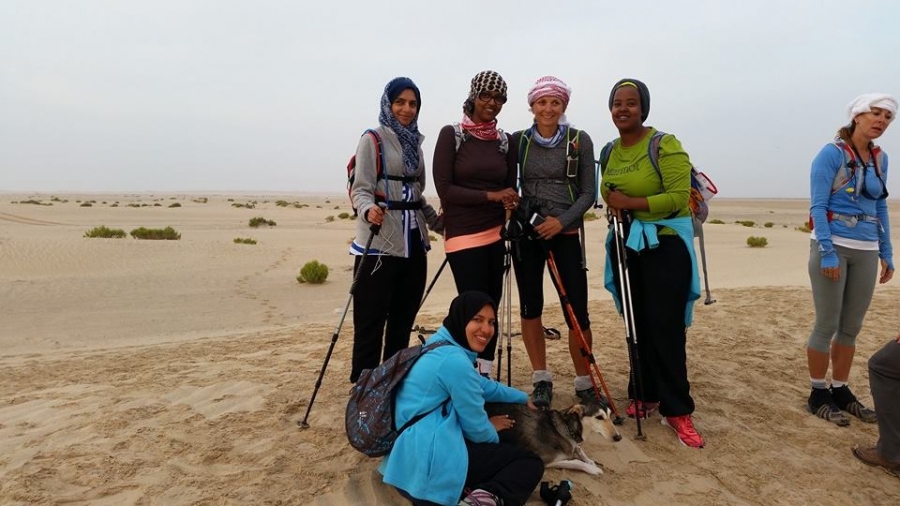 Under the patronage of Shikha Shaikha Bint Mohmaed bin Khalid Al Nahyan. A group of women have paid tribute to the strength and endurance of Emirati families of the past by walking 140 kilometers through the dunes from Al Ain to Abu Dhabi. We are proud that our own student Ms. Nima Abdi was part of the tributes to the strength and endurance of Emirati families of the past by walking 140 kilometres.
The 30 women left Al Bada Resort in Al Ain a week ago, sleeping at makeshift Bedouin camps along the way, before arriving tired but exhilarated at Zayed Centre in Al Bateen yesterday.
In decades past, Emirati families often made the trek from Al Ain Oasis to the small fishing village of Abu Dhabi.
Like the 30 women they experienced searing heat and aching limbs, but also a deep camaraderie reinforced by storytelling over shared meals.
AUE is proud of this achievement when asked Ms. Nima about her endurance she explained, "It's my pleasure as AUE student to be one of those women who walked the 140 Km through the dunes. It was such a wonderful and challenging experiences. The walk lasted for 6 days starting from last week 01-03-2015 TO 06-03-2015.
The main reasons I have taken part of this walk was
To challenge myself.
To inspire and to be inspired by multinational women who walked with me.
To create positive and healthy lifestyle habits.
Developing persistence, perseverance and balance as key components to success both personally and professionally.
Since AUE offering Master Degree in Sport Management,I thought to share my success story with you. I'm so proud of being a member of AUE family, with AUE , I have learned that Nothing is impossible. And after the long walk, it was such a pleasure to be in the front page of The National Newspaper"
For further depth details of this event, kindly refer to the below press release.