AUE CCIT Students Win First and Second Prize at the Emirates Transport Hackathon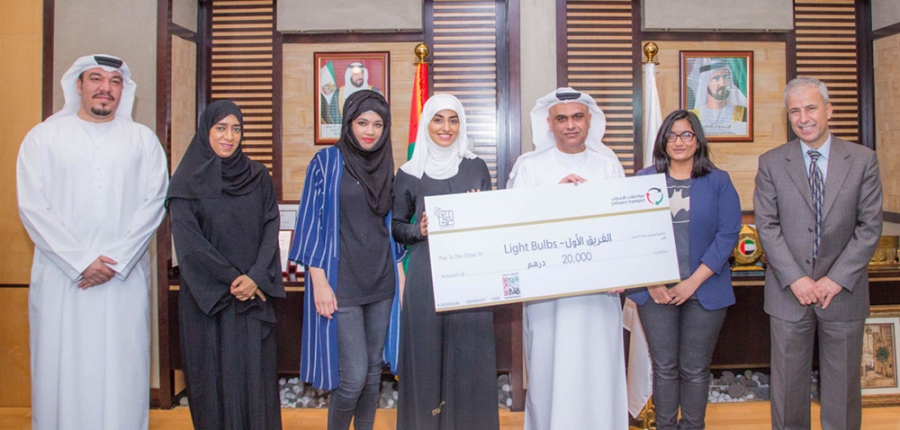 In association with the United Arab Emirates (UAE) Innovation Week 2015, Emirates Transport (ET) conducted a national Hackathon competition involving all UAE Information Technology university students.
In a bid to develop skills and highlight their strength in programming and software development UAE university students were tasked to develop a computer application that would benefit the growth of society within a limited eight hours.
Steering the two winning groups, Light Bulbs and Richi, Dr. Ahmad Noufal and Mr. Jamal Diab of the College of Computer Information Technology (CCIT), prepared and supervised their students for a path to success. Professor Sameh Ghawanmeh, Dean of CCIT, was able to show the strength of his program at AUE through his students' creative innovations. He said, 'I'd like to thank ET on behalf of AUE. We would like to add that 50 percent of our Bachelor degree involves practical hands-on work; a new concept within CCIT that we are very thankful has been recognized.'
First prize winners, Light Bulbs, with leading and exceptional students, Arooshay Imran, Marwa Ali and 
Khadija Hashim developed Carish, an application they planned, documented, designed and presented to help manage carwashes more effectively by including an interactive tablet device embedded within the cleaning machine which tracks requests and links customers with staff and staff with their management teams, thus, providing a clean cut service. Humbly, the Light Bulbs team were shocked of the recognition of their application. Arooshay Imran exclaimed, 'It was a remarkable outcome and more than we expected.'
Runners up in second place were also proudly AUE students Firas Darwish and Yazen Al Dawoodi of the Richi team. Nadhifni (translated to 'Clean Me') was their android application designed to make life simpler for drivers wanting their car washed with a basic mechanism that required the shake of one's smart phone to locate the nearest carwash center.
After handing out both prizes of 20 thousand dirham and 10 thousand dirham within the commemoration ceremony, ET General Manager, Mohammed Abdullah Al Jarman, added, 'The aim of the competition was to discover fresh hands-on ideas. We would like to invite you again to continue this great initiative that distinguishes such passionate students as it is our duty to encourage innovation to young people.'
With such distinguished efforts being recognized nationally by a prestigious body the moral of the whole department has been lifted and stimulated to continue creating renowned work. The ET Hackathon awards are a great achievement on behalf the CCIT department illustrating the high standard of teaching that can add value to the UAE society and create AUE graduates whom are leaders in their fields.