AUE Board Meeting Held on December 12th, 2014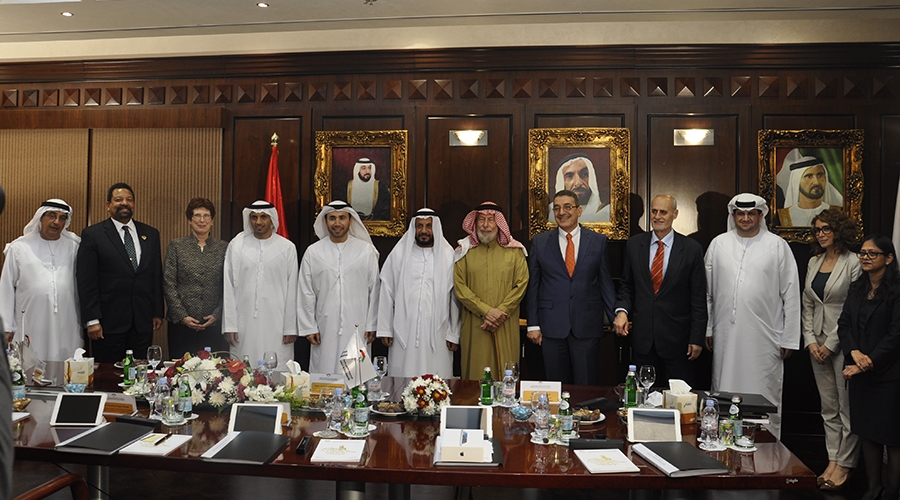 The Board of Trustees meeting was held at AUE on December 12th, 2014. The Chairman of the Board of Trustees, H.E. Mohammed Saleh Bin Bduwah Al Darmaki, and the Deputy Chairman, Mr. Khalaf Al Qubaisi welcomed all the members including, Major General Dr. Ahmed Nasser Al Raisi, Director General of Abu Dhabi Police Central Operations, Dr. Tariq Ahmed Al Haiden, Assistant Foreign Minister for Political Affairs, UAE, Mr. Abdullatif Al Mulla, Group CEO of TECOM Investment, Dr. Ahmed Al Kubaisi , Scholar, Professor Muthanna G Abdul Razzaq, President, Prof. Matthew D. Shank, President, Marymount University, Prof. Suzanne Ortega, Senior Vice President for Academic Affairs, University of North Carolina, USA, Mr. Abdullah Saeed Al Naboodha, Chairman of Al Naboodha Contracting Co LLC, Professor Mitch Land, Dean, School of Communication and Arts, Regent University and Mr. Duane Knapp, Chairman & Founder, Brand Strategy Inc. along with the invited members of the University and the General Secretary of the Board.
The meeting after ensuring the quorum convened for more than two hours to discuss the strategic issues of the University. The President presented the University report and the Chairman congratulated the President for his able leadership and his hard work in the last academic year
The Chairman thanked the members for their continued support and for making themselves available despite their busy schedule.