Ambassador of Chile, His Excellency Jean-Paul Tared Kuborn visits AUE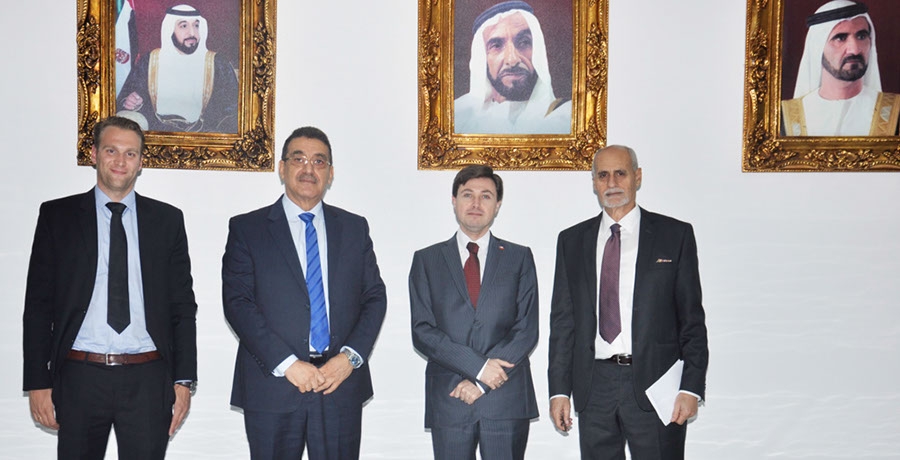 The American University in the Emirates organized a seminar presentation by the Ambassador of Chile, His Excellency Jean-Paul Tared Kuborn on April 18th, 2015.
The Ambassador was welcomed by the President of AUE, Professor Muthanna Abdul Razzaq who stated that seminar presentations and guest lectures by industry experts and professionals are an integral part of the pedagogy of AUE. This was the reason why such speakers are invited to share their valuable insights from their rich experience about contemporary issues, the challenges with which they are faced and how they dealt with them". These sessions serve as the ideal platform for the students to supplement their theoretical knowledge with first hand perspectives from some of the stalwarts of the industry. The presence of HE Ambassador Jean Paul would certainly be beneficial for both faculty members and students, especially those taking courses in international relations, diplomacy and security and strategic studies, he further added".
After the opening speeches, the first Ambassador of Chile to Dubai, Ambassador HE Jean-Paul Tared Kuborn shared his experience as an Ambassador with a focus on the war against narco-terrorism, saying, "drug abuse and trafficking have been a very serious issue, which needs to be addressed and that governments have has a limited rate of options. He also added that students studying in this area have to learn how they can deal with such situations as they venture into the world. This is a serious matter because it not only stops at smuggling drugs, but then ventures into weapons and then people". Ambassador Kuborn ended by saying that students needed to learn about diplomacy, defence and security in the current international scenario."
This very interactive seminar presentation coordinated by the International Office was attended by a large number of students and faculty members and was applauded by all attendees.