AUE launches Startup Incubator Program to help students turn ambitious ideas to successful projects
AUE launches Startup Incubator Program to help students turn ambitious ideas to successful projects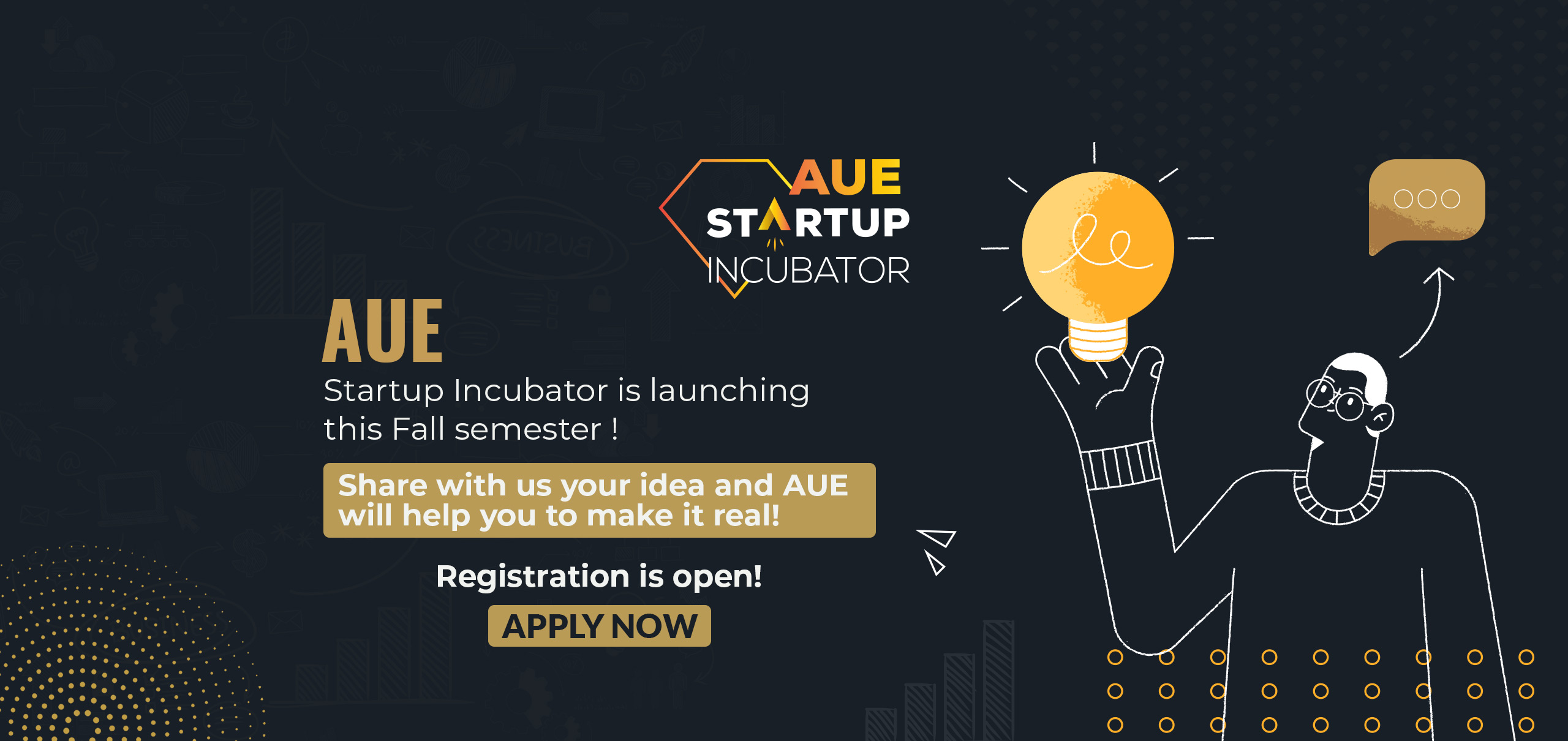 Dubai - the American University in the Emirates
The American University in the Emirates (AUE) has launched an innovative program on entrepreneurship for its students and graduates based on its academic role to back planning and execution of market-fit projects based on a scientific basis.
To ensure that, a group of entrepreneurs, business industry experts, and certified trainers take part and engage in the project to introduce plans, ideas, and the standards required for the success of startups, businesses and investments.
Through the AUE Startup Incubator Program, the university seeks to remove the expected obstacles in the way of those planning to establish startups but do not have enough experience. It also helps them to plan their projects and introduce them in an organized way. The program helps even those who miss some points required to have valuable and clear action plans so that they can start their entrepreneurial journey and who lack experience and necessary solutions for any future obstacles.
The AUE Startup Incubator is an intensive program designed to help the university's students and graduates willing to establish their own startupsin a way that helps youth in the UAE to work as part of the future-oriented knowledge-based economy, Professor Muthanna Ghani Abdul Razzaq, president of the AUE.
"This is achieved through expanding their understanding of entrepreneurship in various economic sectors," Professor Abdul Razzaq explained.
He also said that "The goal of the program is to provide the participating teams with relevant skills and knowledge that would help them overcome the challenges that the entrepreneurs may face while establishing their startups".
Also, an approved market validated prototype is to be presented in front of a jury of experts, he added.
The AUE Startup Incubator program enables the participation of university students, graduates, and postgraduates, especially as it focuses on tools, principles and skills required for developing and raising the efficiency of startups to ensure that startups become up-to-date and ready for the future intensified coaching and mentorship process.
The next step of the program is incubating the most innovative teams for an intensive period of up to 10 weeks. During this period, participants are expected to learn the skills and knowledge required to help them in overcoming any future challenges in their entrepreneurial journey through online workshops, coaching sessions, mentorship, successful entrepreneurship talks.
The AUE believes that spreading the entrepreneurship and innovation culture is in line with the Emirates' future vision that considers such incubators an introduction to diversify and expand development horizons through the creation of generations that are capable of innovation.
Accordingly, such incubators resemble virtual labs that expedites the transformation of ambitious ideas into successful projects.
The main goals of the AUE Startup Incubator program include providing participants with knowledge and skills in the innovation leadership field and defining innovative applications of contemporary technology that can improve workflow. The main goals also include helping participants discover future market opportunities and ways to access comprehensive market and learn transferable soft skills for an actual entrepreneurship to face current and future relevant challenges.