Dr. Soad Matar
Assistant Professor - College of Media and Mass Communication
Dr. Soad Matar is an Assistant Professor in the College of Media and Mass Communication (CMMC) at the American University in the Emirates (AUE). She earned her Ph.D. in Media Communication with a specialization in Media Communication and Public Relations at the University of Franche-Comte in France with honors and highest distinction. Her dissertation examined in the broadest sense how media discourses construct events and present them to the public in times of crisis. The overall hypothesis is that of a persuasive and argumentative functioning that shapes International Public Opinion by contributing to the correlation of religion (Islam) in tandem with a socio-political symbolic concept such as "terrorism". Dr Soad holds a double MA degree in Media Communication and Sciences of Language (Focused on the Political Discourse Analysis, assisted by Computing). Prior to joining the American University in the Emirates in Dubai, Dr. Soad taught at Zayed University in Abu Dhabi, UAE from 2009-2016 as an Assistant Professor, and at Al Ain University – Abu Dhabi from 2016-2020. Dr. Soad also worked as an academic researcher at the University of Franche-Comté – FRANCE from 2006 to 2008 and from 1998 to 2001 at the aforementioned university.

Dr. Soad taught in multilingual institutions using a multidisciplinary approach. These include the Faculty of Political Sciences at University of Indonesia (1987-1991), the University of Algeria (1985 -1987), and finally, at the University of Granada (UGR) (1981- 1985). Dr. Soad has extensive 29-year experience in academic teaching and has held various leadership positions across different universities. She was also part of the accreditation committees at AUE, Al Ain and Indonesia universities seeking ministerial accreditation. In addition to her work in higher education, Dr. Soad has worked as a: Media Consultant with AAA Trading enterprise LTD London (2019-2020), Director of the Academic Committee in Abu Dhabi at the SCR London Center for Research, Social Consulting at the UK (2012 – 2016), editor and presenter at Radio Middle East in Paris (2002-2006), and finally, the Chair of Public Relation and Media department at the Egyptian Embassy in Jakarta (1987-1990).

Dr. Soad has also participated in several international conferences and was invited to conferences as a keynote speaker at the universities of London, Franche-Comte, Bordeaux III, Paris Sorbonne, Granada, Zayed, Qatar, and Kuwait. She has peer-reviewed numerous articles published in SCOPUS relating to her discipline in Media Communication, Public Relations, Media Crisis, International Public Relations, and Diplomacy. Her current research focuses on multidisciplinary fields such as Media Security, Media Crisis, AI, International Relations, and Diplomacy. Dr. Soad is also a member of the Scientific Research Peer Review Committee at SCR London Center, at the Franche-Comté Press Association in France, and finally, a member at the International Toastmasters, UAE branch (Sea Culture Foundation – UAE). Dr. Soad received the Young Researcher Award from JMFB at Dijon- FRANCE in 2008 and in 2009, and she had numerous successful media appearances.

Alma Mater: American University in Cairo (AUC), University of Franche-Comté
Assistant Professor/ Department Chair - BA in Public Relations
College of Media & Mass Communication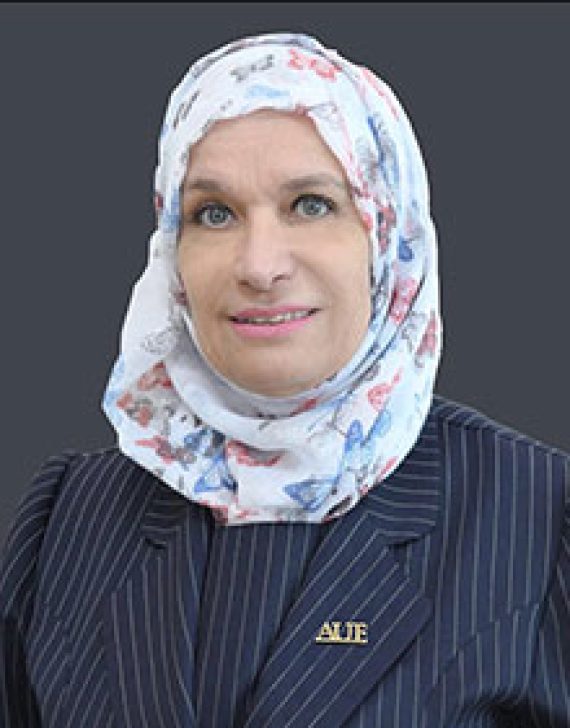 Dr. Soad Matar is an Assistant Professor in the College of Media and Mass Communication (CMMC) at the American University in the Emirates (AUE). She earned her Ph.D. in Media Communication with a specialization in Media Communication and Public Relations at the University of Franche-Comte in France with honors and highest distinction. Her dissertation examined in the broadest sense how media discourses construct events and present them to the public in times of crisis. The overall hypothesis is that of a persuasive and argumentative functioning that shapes International Public Opinion by contributing to the correlation of religion (Islam) in tandem with a socio-political symbolic concept such as "terrorism". Dr Soad holds a double MA degree in Media Communication and Sciences of Language (Focused on the Political Discourse Analysis, assisted by Computing). Prior to joining the American University in the Emirates in Dubai, Dr. Soad taught at Zayed University in Abu Dhabi, UAE from 2009-2016 as an Assistant Professor, and at Al Ain University – Abu Dhabi from 2016-2020. Dr. Soad also worked as an academic researcher at the University of Franche-Comté – FRANCE from 2006 to 2008 and from 1998 to 2001 at the aforementioned university.
Dr. Soad taught in multilingual institutions using a multidisciplinary approach. These include the Faculty of Political Sciences at University of Indonesia (1987-1991), the University of Algeria (1985 -1987), and finally, at the University of Granada (UGR) (1981- 1985). Dr. Soad has extensive 29-year experience in academic teaching and has held various leadership positions across different universities. She was also part of the accreditation committees at AUE, Al Ain and Indonesia universities seeking ministerial accreditation. In addition to her work in higher education, Dr. Soad has worked as a: Media Consultant with AAA Trading enterprise LTD London (2019-2020), Director of the Academic Committee in Abu Dhabi at the SCR London Center for Research, Social Consulting at the UK (2012 – 2016), editor and presenter at Radio Middle East in Paris (2002-2006), and finally, the Chair of Public Relation and Media department at the Egyptian Embassy in Jakarta (1987-1990).
Dr. Soad has also participated in several international conferences and was invited to conferences as a keynote speaker at the universities of London, Franche-Comte, Bordeaux III, Paris Sorbonne, Granada, Zayed, Qatar, and Kuwait. She has peer-reviewed numerous articles published in SCOPUS relating to her discipline in Media Communication, Public Relations, Media Crisis, International Public Relations, and Diplomacy. Her current research focuses on multidisciplinary fields such as Media Security, Media Crisis, AI, International Relations, and Diplomacy. Dr. Soad is also a member of the Scientific Research Peer Review Committee at SCR London Center, at the Franche-Comté Press Association in France, and finally, a member at the International Toastmasters, UAE branch (Sea Culture Foundation – UAE). Dr. Soad received the Young Researcher Award from JMFB at Dijon- FRANCE in 2008 and in 2009, and she had numerous successful media appearances.
Alma Mater: American University in Cairo (AUC), University of Franche-Comté